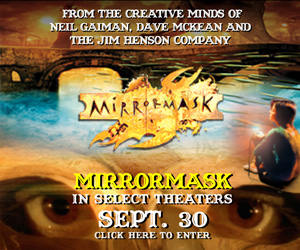 How have I not heard more about this? I only found out because I saw some of the figures in a store, and wondered how a Neil Gaiman book could have passed me by so spectacularly- but no, we get moving pictures too!
Neil Gaiman
.
Dave McKean
. It's guaranteed to be
gorgeous
. And probably epic and incredible too.
See the
trailer
, or a few more
clips
. It's like Dave McKean's art come to life.
The Day I Swapped My Dad for Two Goldfish
and
Wolves in the Walls
,
Coraline
, it visually reminds me some of Clive Barker's children's books, and
Labyrinth
and
The Dark Crystal
- David Lynch meets the Wizard of Oz. It's a girl who wants to run away from her family's circus!